Greetings,
I'm Rebecca (Becky) Doster
Pilot / wpXPERT
building customer databases and managing documentation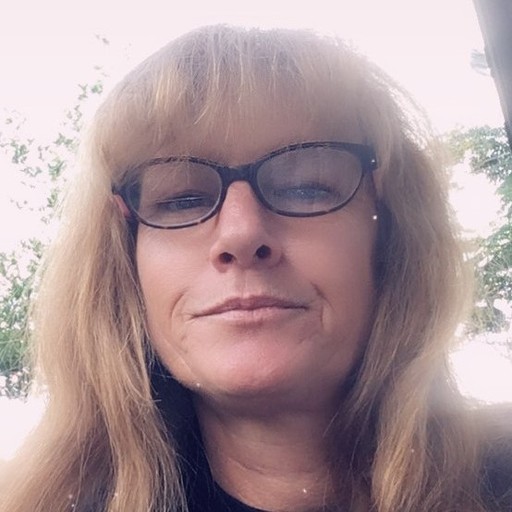 I was born in Jacksonville, North Carolina. I was my dad's "retirement present" when he retired from the Marine Corps. My 3 older sisters and my brother can claim to varying degrees that they were military brats, but I have lived in Kenner, Louisiana, my entire life and would not change it for anything.
I have a handsome 26 year old son named, David. He just moved to Colorado and really likes it there. He is my pride and joy. One of his favorite things is making me laugh.
I love animals. All animals, except June bugs, roaches, and ants. I have 2 dogs: Sadie, a 13-year-old lab mix and Bruno Marmaduke, an 8- year- old Dachshund. I also have 2 cats: Semper Fi & Jezabel. I also have goldfish and  tadpole ponds in my backyard garden. I even name the critters that come into my backyard. I have two possums one is named Thor, the other one is Thor Junior. The raccoon is named is Herman. A tree frog, Frogger, and his friend, Warren Gecko, live near the patio where I smoke..
Things I Like and Other Traits
The Walking Dead
Outlanders
Zombies

Watching horror movies even though they give me nightmares.
Gardening

 Kidding around

 Keeping things in order.

Cooking
I try to be friendly.

I hate doctors except, my doctor, Dr. Naquin.

I like to help people.
Post Office Employees Credits Union
Credit Union head teller promoted to creativity and assistance management. I worked Post Office Employees Credits Union for 5 years. I loved my  job. I was the first employee to get a raise within 6 months of hiring and was promoted to head teller at the same time. I also performed the duties of a loan manager – taking and approving loan applications.
My duties:
I led the tellers. I was considered both Assistant Manager and Head of Creative. As Head of Creative, I developed promotional materials and activities. Our branch won the decorating contest every holiday.
I left that job after Katrina.
 At Parish Bank, they were always  telling me that you could tell I came from a credit union, because I was too nice and acted like I cared about the customers
 Build customer databases and managing documentation.
I love working on computers, downloading and trying out apps, and programming. I went to college for computer science, but C++ was extremely boring to me. I loved Visual Basic but don't work with it much anymore.
My job at wpXPRESS is much more interesting.